Do great work together, with more ease.
Your team is your most precious resource in your company. Your leaders – the titled ones and the natural ones who rise up out of conviction and care – set the tone for your entire organization. They dramatically impact productivity, company culture, sales, production and, well, every single thing in your organization.
Every organization has a unique culture – and unique needs for supporting those who lead. We know this, which is why we so love to sit down with you and discover exactly what would best support you and your team in doing your best work ever.
Our Custom Team Training programs are designed around the needs of your leaders and your organization.
We provide team training that helps people in business do great work faster with more ease.
Communication is at the heart of all great work.
When ideas are expressed clearly and information is shared effectively, innovation and creativity thrive.
When feedback is given thoughtfully, with a focus on relationship, we learn new things and help each other be excellent.
Trust in leaders and team members is built through clear and effective communication.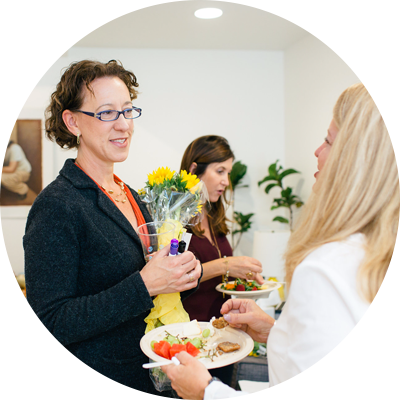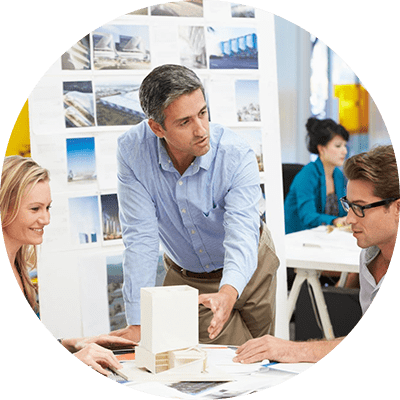 Yet, all too often, this is not the experience we are having at work.
Unclear and poorly communicated ideas and directions are the source of many wasted hours (which means a whole lot of wasted dollars – and disengaged people). 
Frustrated teammates avoid having difficult yet crucial conversations.
Boring meetings that fail to move projects forward and can even cause confusion fill our days.
The problem is that most business people are not taught how to clearly, powerfully and authentically communicate at work.
This means we are left to figure it out on our own. We know this isn't working by how many business people are bored and disengaged in meetings and frustrated at their ability to influence in ways that matter to them.
It doesn't have to be this way. But you have to be willing to do the single most important thing: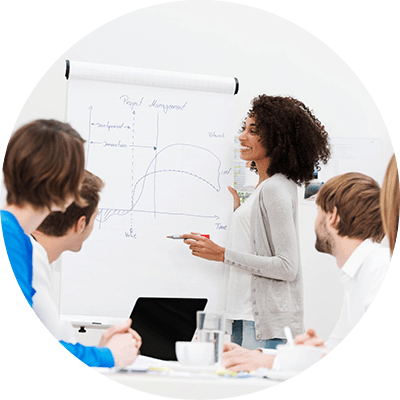 Help your people communicate clearly, authentically and powerfully – in a way that matters.
Let us help. Our mission is to help people and organizations who are doing great work in our world make a bigger positive impact through clear and powerful communication, with heart.

Speak So It Matters™ Presentation Skills training emboldens presenters to become leaders, no matter what their level, by sharing their ideas with clarity, conviction and natural charisma.
Great work gets done together – but only if we make the best use of our time. Unfortunately, work meetings have a terrible reputation for wasting time and causing frustration. It doesn't have to be this way. We can help your team implement all of the best practices in meeting design and facilitation so that your meetings are the favorite (and most productive) of all.
Need something more custom to support your team or organization? Whether you are struggling with conflict management, emerging leader development or any other communication or leadership area, I know we can help. Let's chat.
WE PROVIDE PROGRAMS THAT ARE:
CUSTOMIZED:
Catered to your needs
Personalized assessments
A la carte or full spectrum
CONSCIOUS:
Socially
Fiscally
Time commitment
COMPELLING:
Engaging learning experiences
Story focused
Direct application to current work
Rest assured, we go much deeper than traditional presentation skills, communication skills and leadership training and coaching.
Our programs have completely changed the way people think about – and employ – business communication and leadership.
The training exceeded my expectations. Very relevant and very insightful breakdown and useful tools. I would absolutely recommend it to my colleagues!
Jake B.,
Technology Manager
I was surprised how you used an "easy going" approach while maintaining control of the group. Everyone can use these skills. Good pace – the training was several hours but it didn't feel like it.
Greg F.,
Media Production Manager
Michelle's training was thought-provoking, engaging and informative. I would recommend this training to any professional who has to engage in any level of group discussion. The training is fun, provocative and jam packed with useful tips and suggestions based on proven results.
Lori S.,
Sales Supervisor
I didn't expect the flexibility and wisdom, as opposed to just tactics and gimmicks as I have seen in the past. Michelle's style sets a standard and is a great example of a great presentation. Powerful, truthful, new information.
Jillian C.,
Marketing and Sales Manager
When you invest in your people and their ability to communicate with clarity and confidence, your efforts will benefit not just the company, but most importantly the people who make the company thrive.
That's brilliance at work.
Are you ready to empower your people to do their best work together? Let's talk.